Africa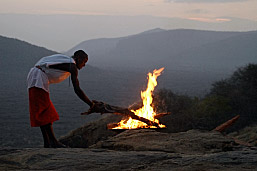 Africa by MoonRings
---
World-beating safaris perfect for special occasions
Luxurious, safe, imaginative, once-in-a-lifetime
Local culture through our deep network of in-country partners
Cosmopolitan cities contrasted with rural experiences
Amazing options for foodies and beach lovers alike
Combinable with other stops in Europe or Indian Ocean
For many people, Africa is a mystery. Far away, where the wild things roam, something only seen on the National Geographic channel. But it needn't be such an unknown quantity, as it is, in our humble opinion, one of the most fascinating and exotic destinations on earth. It is the Cradle of Mankind, host to many of the world's best wildlife experiences, site of one of the Seven Wonders of the Ancient World, and home to fabulous beaches as an added bonus.
Particularly if you enjoy experiential travel, Africa should be on your short list. Whether you are considering your first safari or your 15th, Southern and East Africa offer animal encounters that delight and amaze. Or choose from among Egypt's Great Pyramids, cosmopolitan cities such as Cape Town and Marrakech, Mozambique's biodiverse reefs and pristine coast, Morocco's High Atlas Mountains, Namibia's stunning deserts, or the majestic lakes of Tanganyika or Malawi. Wherever you go, you'll meet people who are making a difference in Africa's contemporary evolution: local tribesmen, conservationists, activists, artisans, volunteers and everyday citizens.
And once you've made the effort to visit for the first time (or the 15th), the stories you'll live during your travels will be those you'll re-tell for years to come. We're quite certain you'll leave some of yourselves in Africa, and that you'll return home somehow different and better for the experience.
We invite you to browse the destinations below, and contact us to learn which other locations within this diverse continent MoonRings can propose for you.
Africa Destinations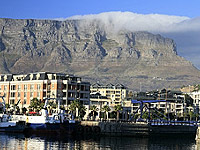 Diversity of both its people and its regions make South Africa an excellent choice, especially for the first-time visitor to Africa. A few days at a fabulous safari lodge can be combined with a weekend in bustling Cape Town, a jaunt across the scenic Garden Route, a stop on the Whale Coast, a visit to the Cape Winelands or a heritage tour in Kwazulu-Natal or Johannesburg.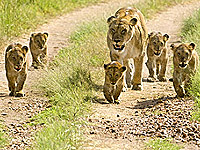 With millions of wildebeest traversing the Serengeti National Park in search of fertile grasslands, it's no wonder Tanzania is one of Africa's premier safari destinations. Along with "The Migration", safari experiences are endless, considering such diverse regions as Mount Kilimanjaro, the Ngorongoro Crater, & the Mahale Mountains. Include a stay in exotic Zanzibar, & you have the perfect "bush and beach" combination.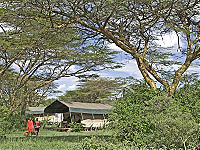 In addition to South Africa and Tanzania, MoonRings creates custom-tailored itineraries across the African continent, including Botswana, Egypt, Kenya, Madagascar, Malawi, Morocco, Mozambique, Namibia, Uganda, Zambia and Zimbabwe. We invite you to learn more about each!
Other Africa Destinations
In addition to Tanzania and South Africa, MoonRings arranges remarkable travel experiences in the following African countries. Please contact us directly to learn more and to plan your next journey!
Botswana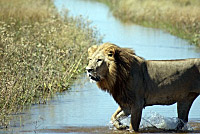 From the life-giving waters of the Okavango Delta to the dry moonscape of the Kalahari Desert, Botswana can be summed up in one word and one superlative: incredibly pristine. With only 2 million people in an area the size of Texas, a safari experience here is by definition remote, which means unparalleled game viewing quality. No other vehicles, no nearby camps, just you and the deep wilderness. You'll track game on foot, by 4x4 or by mokoro canoe, following patiently as predators stalk their prey. A lovely contrast is the Kalahari Desert, featuring wildlife adapted to its harsh conditions, and endless skies full of brilliant stars. Botswana combines well with South Africa and Victoria Falls in Zambia or Zimbabwe.
Egypt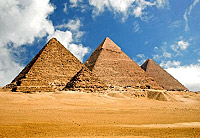 When thinking of ancient civilizations, Egypt is one of the first places that come to mind. And indeed, the country's Great Pyramid of Giza is on the "life list" for many. But visit the Pyramids or the Valley of the Kings at Luxor with a professional archeologist, and you'll gain a true appreciation for the ingenuity of the ancient Egyptians. Don't miss a luxurious cruise on the Nile, café culture in Cairo, or excellent diving and snorkeling at the Red Sea. Egypt can be combined easily with Israel and/or Jordan as well.
Kenya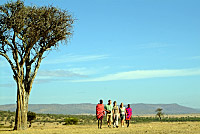 Sharing a long border with Tanzania, Kenya is Africa's quintessential safari destination. Imbued with an enticing mix of wildlife, colonial heritage, proud Maasai people and stunningly diverse scenery, one could spend weeks in Kenya alone. Kenya's Masai Mara National Reserve is its most famous, with extraordinarily high concentrations of predators chasing the annual wildebeest migration. Don't overlook its other game regions: Amboseli N.P. and its views on Kilimanjaro, Samburu N.R. with its ultra-dry environment and engaging tribespeople, the Lewa Reserve's rhino sanctuary, and Mount Kenya and its varied wildlife, to name but a few. Take a camel-back safari, start your day in a hot air balloon, go clubbing in Nairobi, or head to the coast for some well-deserved beach time.
Malawi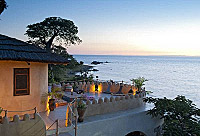 In southern Africa but land locked between Zambia, Mozambique and Tanzania, Malawi is a small and often-overlooked country. It is generally very scenic and lush, with plateaux, highlands, forests, mountains, plains, escarpments and dramatic river valleys. While the country does have nine national parks and wildlife reserves, the real draw is Lake Malawi, a vast repository of clear, fresh water that is 365 miles long, 52 miles wide, and 2300 ft deep at it most profound. This is a truly unique place to start a honeymoon or simply escape from it all, while enjoying snorkeling, diving, fishing and sailing.
Morocco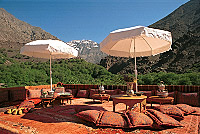 Part of Africa yet completely distinct, Morocco is a land of contrasts: mountains and scorching deserts, Arabic heritage and French colonial history, chic retreats and simple Berber tents, endless souks and quiet courtyards, cosmopolitan Marrakech and traditional Fes. It's a wonderful place to explore the colorful mélange of traders, herders, artisans and now sophisticated city dwellers, all of whom are justifiably proud of their rich traditions. Hospitality is legendary, and visitors find themselves pampered and spoiled. We recommend a visit to Kasbahs Toubkal or Tamadot in the High Atlas, desert excursions from Ouarzazate, in-depth visits in Marrakech and Fes, and possibly a few days at the shore in Essaouira.
Mozambique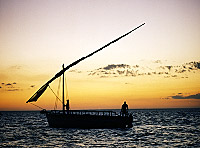 On the continent's west coast, Mozambique is all about the water. Small islands lie within idyllic archipelagoes, and make excellent retreats for those seeking world-class diving and snorkeling, barefoot luxury, and pristine beaches. Of particular note are the Bazaruto Archipelago to the south and the Quirimbas Archipelago to the north. Easily reached from either South Africa or Tanzania, Mozambique is an escapist's paradise and a wonderful addition to a safari experience as part of a honeymoon, special occasion, or simply as a way to chill with no obligations.
Namibia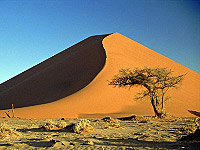 Nambia is characterized by wide open spaces, few people, and a stunning desert landscape. A wonderful way to see the country is by flight safari, exploring the dunes, rock formations, dry lakes and Skeleton Coast (so named for its many shipwrecks) from above. While animal concentrations are less than other countries, on safari it's fascinating to see how the flora and fauna have adapted to the water-deprived environment. In complete contrast to the desert environment is Namibia's Caprivi Strip, a sliver of land between Botswana and Zambia that is characterized by rivers, islands, and boat-based game viewing – a totally different experience!
Uganda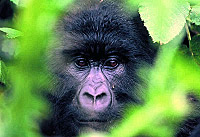 Not overly visited due to strict permit controls, Uganda offers an unbelievable opportunity for the intrepid traveler to trek into the highlands in search of mountain gorillas. The ideal place to do this is the Bwindi Impenetrable Forest in the country's southwest, home to volcanoes, lakes, waterfalls, dramatic valleys and imposing mountains. From your lodge, you'll make your way through dense jungle to visit some of the few remaining gorilla families on planet earth. This is truly a once-in-a-lifetime experience where you'll spend time in the gorillas' presence, observe their social structure, and watch them at play and at work. Uganda is easily combinable with a trip to Kenya.
Zambia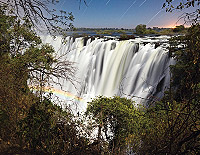 While lovers come to Livingstone, Zambia for the romance of Victoria Falls, adrenaline junkies do the same for the myriad heart racing activities it has to offer. Easily Africa's "adventure" capital, Livingstone satisfies thrill-seekers with bungee jumping, micro-light flights, whitewater rafting, jet-boating, river boarding, and swimming at the falls' edge. It's also a perfect for relaxation, with many fine lodges and hotels. But Zambia is more than this; its safaris are as diverse as anywhere, and if you value multiple ways to see wildlife, Zambia delivers. By canoe, on foot, by 4x4, from the air, on elephant back, at night, you'll witness Africa from all facets. And while most major National Parks prohibit anything but vehicle safaris, those in Zambia such as South Luangwa National Park, encourage such interactive exploration of the bush.
Zimbabwe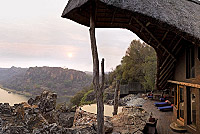 Despite its turbulent political history, Zimbabwe remains one of Africa's most extraordinary safari destinations. Start by enjoying the Zim side of beautiful Victoria Falls, where you can relax at a great hotel or opt for any number of adventure activities. The nearby Zambezi River offers exhilarating canoe safaris through Mana Pools National Park, which many visitors pair with a visit to Hwange National Park, Zimbabwe's largest, and home to one of Africa's largest elephant populations. Those in the know will make the effort to reach the Malilangwe Wildlife Reserve, in the southeast, where visitors are comparatively rare, accommodations are world-class, and game viewing is fantastic.