Overview
The word itself comes from the Arabic safar, which means "journey." To those who have never been on safari, it is indeed a journey, both physical and emotional, in which your eyes will be opened to the miracles of Mother Nature. You'll always remember the beauty of the land, the thrill of tracking a big cat, the amazing people you meet, and the sense of peace and wonderment you feel at the end of a day in the bush. One time is never enough; you'll definitely be inspired to make another journey as soon as possible.
Quintessential safaris can be created in places like Kenya, Tanzania, Botswana, South Africa, Zambia and Zimbabwe among others. A safari need not take place in Africa; although most do, amazing wildlife safaris can be found in India, Sri Lanka, Malaysia, Ecuador and Canada, to name a few. Some are luxurious, where every need is catered and comfort is never compromised. Others offer tented experiences, a bit more basic but remade in the spirit of early adventurers who discovered the charm and the romance of Africa's wide open spaces. On foot, by Land Rover, in a hot air balloon, by canoe, at daybreak or last light, there are multiple ways to enjoy this journey. MoonRings can guide you through the selection of your optimal safari destination, and the best choice of lodge and guides while providing the deep logistical support required to reach remote jungles, mountains and savannas. Our safari experts are here to make this most special of travel experiences come true for you.
By far, our favorite experience was our safari. We loved our lodge, loved the people, loved the food, and soaked up every bit of the game drives until the final morning. Most of all, every detail went off without a hitch! You planned everything down to a tee; we never had a question about our travel plans, or met one person who wasn't absolutely accommodating. We're so grateful for all your efforts.
-- Alissa and Steve, New York City
A moment on your
Safari...
---
It's late afternoon, and you perch on the edge of your seats in your private Land Rover, cameras trained on the beautiful cheetah not more than 100 feet away. Your guide from Singita Sabora Tented Camp in Tanzania's Grumeti Reserve explains her careful behavior as she slinks through the yellow grass towards a small herd of Thompson's gazelle. Patience and the wind direction are in her favor, and the petite gazelles don't suspect her presence. Closer, closer, and then….she springs!! With an intense burst of speed the cheetah closes the gap and takes down the nearest gazelle with admirable precision. While the herd is now one fewer, this afternoon's kill ensures food for the cheetah's two cubs. You've just had the privilege to witness a rare moment in Mother Nature's cycle of life at close range; you remain in silent awe as your ranger suggests a spot on the horizon to celebrate what you've seen with a stunning sunset and a cool drink.
Safari Styles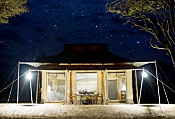 There are so many ways to enjoy a safari that it's important to consider which type of experience would be most appropriate for your interests. The following are a few dimensions to discuss as you begin thinking about your ideal journey into the bush.
Safari as the primary focus of your trip:
If you're fascinated by the animal kingdom and want to explore it as deeply as possible, then a trip with safari as its primary focus is a good fit. This typically involves spending 2-3 nights in a given safari location before moving on to the next. It's a wonderful way to compare and contrast landscapes, animals and cultures, resulting in a rich and diverse experience. A safari such as this might typically last 10-20 days, depending on your interests and budget. Kenya, Tanzania and Botswana are ideal places for an all-safari itinerary given their wide variety of national parks and game reserves. Journeys of this nature do mean your transportation costs will be higher since you'll be moving frequently. Think too about the possibility you might get "safaried out," as some people do find this to be the case.
Safari as a portion of your trip:
For people with more diverse interests, incorporating safari into your overall trip can offer the best of all worlds. Safari may not be the expressed purpose of your trip, but may well turn out to be a highlight, so we suggest leaving it for the end of your travels so that you can "save the best for last." An ideal place to mix and match experiences is South Africa, where you can easily visit cities, coastal areas and countryside prior to heading on safari. India is another great place to add a couple days of game viewing; it's home to some of the world's last tigers in the wild.
Luxury safaris:
To many people, the idea of game viewing by day and retiring to a five-star safari lodge with a spa and world-class cuisine by night is a dream come true. Fortunately there are many, many locations throughout Southern and East Africa for those seeking exceptional comfort and the finer things in life. South Africa, in particular, has an alluring array of luxury lodges, and options also exist in Botswana, Kenya, Tanzania and Zimbabwe.
For some, the ultimate luxury is a private safari. While most high-end camps and lodges will have their own guides and vehicles, it's possible to engage a private guide to travel with you during your entire journey, no matter the location. The benefits of this can be significant: you'll always have a private vehicle, and your guide will know exactly what you've seen and can tailor your game viewing efforts accordingly. Many of the best guides in the industry come from families that have lived in the bush for generations, bringing knowledge and hospitality beyond what individual lodges can provide.
More moderate safaris:
Africa is home to a wonderful selection of lodges and safari experiences that don't have to break the bank. They will more typically have tented accommodations, but this isn't always the case. Lodges and camps are still lovely, with ensuite facilities, fabulous staff, knowledgeable guides and quality food. Showers may be of the bucket variety, but the water is warm and you'll be clean at the end of the day. Best of all, you'll still be treated to a quintessential safari; there is no compromise on the viewing experience.
Mobile safaris:
For those with a real wanderlust and a desire to escape all signs of humanity, a mobile safari is a great option. These involve a private guide for your entire journey, and a dedicated group of camp staff who transport your comfortable tented camp from location to location. You can move as the wildlife does, a particular asset if you are keen to catch the Great Migration, for example.
Flying vs. overland safaris:
In East Africa in particular, you have the choice between a flying safari and an overland safari. In both Kenya and Tanzania, there is a well-developed network of charter flights between the different parks and reserves; flying allows for a more efficient itinerary. Several flights can quickly bring up the trip cost however, so those seeking value often opt to have a guide drive them between locations. In addition to saving money, driving provides an opportunity to better appreciate the land and its people. There are definitely merits to both. In countries such as Botswana, South Africa and Zambia, where distances between parks are greater and in many cases road options are scarce, flying is generally the preferred choice.
Cultural safaris:
For those interested in local culture, it's possible to make this a key element of the safari experience. At the most simple level, it's possible to pay a visit to a traditional village in order to gain a sense for local customs and how people live. For a more intense cultural experience, a number of camps and lodges are run by local tribesmen, providing a unique window into their daily lives. It's up to you how deeply you wish to explore the local culture during your safari.
The Great Migration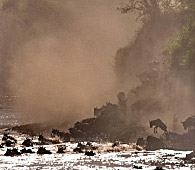 Sometimes called the "Greatest Show on Earth," the annual migration of wildebeest (and other plains game) across Tanzania's Serengeti and Kenya's Masai Mara is a sight to behold. Influenced by weather patterns and the decreasing supply of grass, 1.5 million wildebeest, hundreds of thousands of zebra, and countless Eland and Thompson's gazelle traverse this wide area in search of fertile grazing land. Along the way predators of all kinds either follow or await the herds.
Their general trajectory starts in the southeastern plains of Tanzania in January and February, and they move north as the rains and grazing dictate. Upon finally reaching the northern Serengeti and the Masai Mara from July through October, the herds are very concentrated, blanketing the landscape for as far as the eye can see. En route they must cross and re-cross a number of rivers, where they queue by the thousands, each waiting to see who will be first to face the jaws of the waiting crocodiles.
Every year the migration pattern is slightly different, so while it can never be 100% guaranteed that you will see the herds or a crossing, we do everything possible to maximize your chances through intelligent itinerary design.
It's important to note, however, that both Kenya and Tanzania are still fantastic safari destinations outside of migration season; at other times of year you'll have more opportunity to appreciate a greater diversity of species apart from wildebeest.
While much smaller migrations occur in places like Botswana, most other safari destinations, because of their system of park management, do not feature migratory herds. They do, however, offer different yet equally rewarding game experiences.
Planning a Safari
As you consider a safari, there are several important questions to ask:
Why is the idea of safari attractive / exciting to you?
With whom will you be traveling?
At what time of year will you be traveling (or are your dates flexible)?
How much time would you like to be on safari in total?
Will safari be your primary focus or will you incorporate other experiences as well?
Other than general game viewing, what are your specific interests on safari?
At what standard of comfort do you prefer to travel?
Are you interested in tented camps or willing to consider them?
What is your budget? As a general rule, you'll need to be prepared to spend at least $1000/day (double occupancy) on most custom-designed safaris not including transportation.
Would you like the services of a private guide throughout your safari experience?
How do you feel about traveling in small planes?
How much moving around are you willing to do?
The answers to these questions will help determine where and how to design your safari. We look forward to discussing your interests, preferences and aspirations in order to create your perfect safari experience.
Why MoonRings
Significant Safari Experience
Having participated in and planned hundreds of safaris for our clients, our specialists ask the right questions and have the knowledge to design your ideal custom-tailored safari itinerary.
Destination expertise
Our specialists travel extensively in Africa (and elsewhere) in search of the best safari destinations, gathering first-hand knowledge, allowing us to provide more insightful recommendations.
Impeccable execution
A safari is far more complex than the typical vacation. We are passionate about attention to detail, and work tirelessly to ensure our clients' safaris are the seamless, once-in-a-lifetime experiences they should be.
Strong industry relationships
We have cultivated deep relationships with the best safari lodges, operators and guides, ensuring our clients receive the warmest welcome and the finest service possible while on safari.
Are we a good fit for you? If so, please contact us to discuss your safari interests and learn more about the next steps to becoming a client.