Living the Pura Vida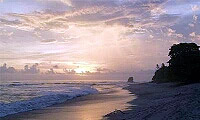 Pura Vida means "Pure Life", and the Costa Ricans should know. This phrase is how they greet each other as well as how they express happiness in conversation. This itinerary is designed to take you away from civilization and into the pure life, incorporating the beach, the rainforests and the valleys of this pristine country.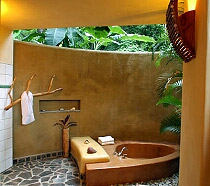 You'll arrive in Costa Rica through...
its capital San Jose, and take a connecting flight to the Nicoya Peninsula. From there, it's another 45 minutes by 4x4, but your arrival point, Flor Blanca, is worth every bump in the road. Arguably Costa Rica's nicest boutique hotel, Flor Blanca is secluded, relaxing, and truly lovely. Your one-bedroom villa is expansive and private, and while it's tempting not to leave, the beach, the pool, the spa and the hotel's fantastic restaurant beckon.
This is a perfect place to ease into your honeymoon...
where you can do nothing but enjoy each others' company. Or, if you feel like some activity, go horseback riding, take a surfing lesson, or ride bikes to the small town of Santa Theresa for great seafood. No matter what, be sure to schedule one of Flor Blanca's romantic dinners – you can choose to be seated in the stunning palapa overlooking the pool, or on the beach, by yourselves, as the tide comes in. Either will be completely memorable!
After a few days on the coast...
you'll fly back to San Jose for a brief stopover, staying at the well-regarded Hotel Grano de Oro. An early evening with a terrific dinner in their restaurant is in order, because you'll be picked up at 6:30 am the next day to begin your rafting and eco adventure on the Pacuare River.
The Pacuare offers a thrilling and beautiful river experience...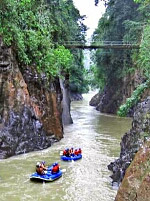 Along with the excitement of white water rafting, you'll have a chance to spend two nights at the rustic but enchanting Pacuare Lodge, where you'll raft in and raft out, and in between be treated to beautiful Costa Rican jungle, waterfalls and wildlife.
If you've never rafted, don't worry – beginners can do this trip with no trouble. Your knowledgeable river guide will teach you the moves and then you are off to the first stretch of river – a scenic and curving route with intermittent stretches of Class III rapids. It offers the perfect opportunity to learn the ropes, and before long, you'll find yourselves at Pacuare Lodge, in time for a delicious lunch.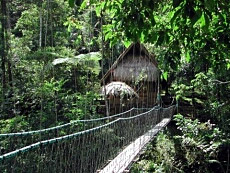 The lodge consists of several bungalows, and yours is the best of the bunch – the honeymoon bungalow. It's located up a path and through the woods from the rest of the lodge, but at the top of the ascent you realize you are in for a treat! The bungalow sits up high, overlooking the canopy, and even has its own suspended bridge from which you can look down on the river, the treetops and the main lodge. How cool is that?! Pacuare Lodge is a true eco-lodge, so as a result there is no electricity (candles light the way). The honeymoon bungalow, however, does have a solar water heater, so there is hot water for showers.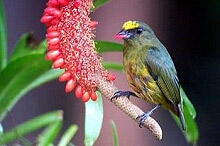 Now at the lodge you'll enjoy exploration of the jungle – there is a fantastic canopy tour at your disposal, with no crowds like some of the more popular courses in Costa Rica. You can also do moderate to difficult hikes through the area with a guide who can point out the small tree frog, unique bird, or fascinating insect life. Horseback riding is also available, as is simply relaxing amidst the abundant greenery. As far as dining goes, Michael and Coqui serve some of the best meals in Costa Rica, and dinners with wine and candlelight are sure to be captivating and romantic.
Believe it or not, you'll want more time here...
but after two nights, it's time to head back to the Rio Pacuare, for your second and most exciting day on the river. Today, you'll use your skills from day one to navigate Class III and Class IV rapids. The river twists and turns, and you'll get soaked for sure, but each stretch of rapids brings a smile to your faces and a sense of accomplishment. You'll stop en route for a picnic lunch, do some swimming, and admire the gorgeous scenery. You'll finish up at about 3 PM, change into dry clothes, and head back to San Jose.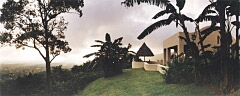 Ah, you are happily exhausted by now, and perhaps nothing could be more enticing than your next stop, Xandari, in Costa Rica's Central Valley. Only 15 minutes from the San Jose Airport, with a feel worlds away, you're first struck by the abundance of art around the property. Colorful, modern, whimsical, Xandari almost feels as though it belongs in Napa Valley, but your setting is pure Costa Rica! The property has hiking trails, a 70 ft. waterfall, an orange grove, a lovely spa, a great restaurant with amazing views and two small swimming pools. It's a perfect retreat in which to spend the final nights on your honeymoon, yet it is close to volcanoes, excellent horseback riding, and coffee plantations. You'll wind down in colorful style, recover from your adventures, and enjoy a bit of fine living before heading home.
And when it is time to go, you'll linger as long as possible over coffee on your verandah before saying goodbye to your new favorite vacation destination. Pura Vida!
Who will enjoy this trip:
Couples wishing quiet and seclusion, away from other tourists (and humans in general). If you value accommodations with special character, and don't mind making some tradeoffs to obtain that character. Those with a taste for adventure in the great outdoors, but also want to mix in some pampering. Lovers of good food.
Who should avoid this trip:
Those who prefer to be near civilization or some type of town. Those who can't imagine going with out electricity for a couple days. If you prefer not to move around, this itinerary may seem a bit too busy.
Details
Length:
11 Days / 10 Nights
Locations:
Southern Nicoya Peninsula
San Jose
Pacuare River and environs
Central Valley
Hotels:
Flor Blanca, Nicoya
Hotel Grano de Oro, San Jose
Pacuare River Lodge
Xandari, Central Valley
Transportation:
Private car and driver
Internal flights (optional)
Special features, activities and inclusions:
Full breakfast for two daily
Dinner under the special Palapa at Flor Blanca
Spa treatment at Flor Blanca
Horseback riding at Pacuare Lodge
Day trip to Poas Volcano
Spa treatment at Xandari
Price range:
$2400 - $2900 per person (includes tax & service, but not air from your home city)
Exact price will depend on time of year and personal travel preferences. The above range extends from low to high season.
Full customization:
All location, hotel and activity choices will be modified according to your interests and budget.
How to purchase:
Review our Terms of Service
Call us at 800.205.3314 to start planning your trip!