Indian Ocean Islands
Far & Away Luxury in Paradise
Have you ever wanted to discover a remote tropical paradise few have ever heard of - let alone visited? Yes! Then, consider heading for a part of the world where celebrities go to escape reality and find serenity, the islands of the Indian Ocean. Here you will find a handful of idyllic honeymoon locations, including the Maldives, Mauritius, and the Seychelles.
These three amazing island locales offer a fine balance between diversity, activity, and exclusivity. Ubiquitous sunshine, deep azure water, and painstaking attention to detail tie them together, yet each has its own local culture and attractions. Above all, relaxation and pampering are practically involuntary in such pristine settings. Heaven on earth and a near perfect region to honeymoon.
Just the Facts
Best suited for:
Honeymoon couples seeking tropical luxury and exclusivity in a lesser known destination. Those who desire beautiful beaches but still want access to a variety of activities. Those wanting to create a more diverse experience by mixing island relaxation with a visit to Africa, India, Southeast Asia, or Europe.
When to go:
The best time to visit the Maldives is between December and April, during the dry season. Temperatures are consistently warm year round, with daytime highs in middle 80sF (30C).
Mauritius sees more temperature variability, with the summer season from December through April being the warmest (lower 80sF / 28C), and the winter season from May to October being a little cooler (middle-to-upper 70sF / 24-26C). The summer tends to be wetter, plus there is a risk of cyclones. The best time to visit will depend on your temperature and precipitation preferences, with May, October and November offering a nice balance.
The Seychelles lie outside the main cyclone belt. Although tropical with daytime temps in the middle 80sF/ 27-30C, there are still two distinct seasons, the dry and the wet. The dry season, from May through October, is usually the best time to visit, although it can get quite windy with rough seas. The rest of the year is considered the rainy season, with frequent showers and higher humidity.
Accommodations:
Many resorts incorporate the "wow" factor at first sight, not surprising considering they are among the world's most renowned! While the best of the best are very pricey, there also exist a smaller number of middle tier properties. The Maldives are home to incredible private island resorts, many with overwater bungalows. The top resorts in Mauritius are known for high levels of personal service - butlers are standard at many properties. The Seychelles offer a nice range of accommodations, from exclusive private islands to traditional, full-service resorts. Most use local materials and are designed in harmony with the natural surroundings.
Dining:
Food options will vary by destination and often times from resort to resort. Cuisine in the Maldives is influenced by its neighbors, Sri Lanka and India. You'll find spicy curries, fresh seafood, and a wide variety of international fare. Dining in Mauritius is a bit eclectic, with dishes reflecting the ethnic diversity of its people (French, Chinese, Creole, and Indian). No matter where you decide to dine, you'll likely finish off the meal with a savory cake known as gajak. The Seychelles shares many of the same foreign cuisine influences as Mauritius, complemented with locally abundant coconut milk, breadfruit, and seafood.
Special Activities:
Every imaginable water sport, luxury cruising in the Maldives, adventurous mountain and land activities in Mauritius, and a ecotourism in the Seychelles.
Regions - Indian Ocean Islands
Which island location is right for you?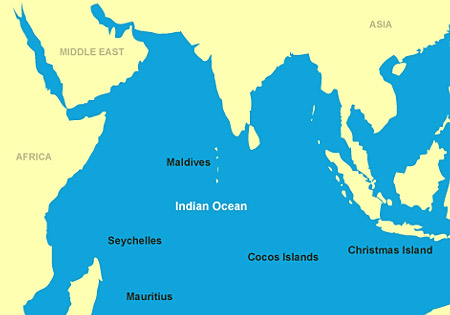 Click on each region in the left menu to learn more about that region.
Why Indian Ocean Islands
Reasons to choose Indian Ocean Islands:
Breathtaking tropical scenery, luxurious resorts and plenty of seclusion. An opportunity to get off the beaten path without roughing it. An endless variety of water activities
Reasons to choose someplace else over Indian Ocean Islands:
Extremely long travel distances. Expensive airfare and hotels. If you prefer a strong cultural experiences.
Signature Itineraries - Indian Ocean Islands
All of our signature itineraries are fully custom tailored according to your interests and budget. The following sample itineraries are intended to provide a feel for what's possible.