The Seychelles
A Garden of Eden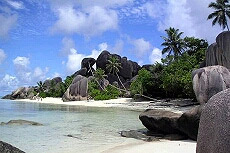 Reaching paradise is not easy - but we promise it will be worth it once you arrive! You will land at the international airport in Mahé but you're not quite there yet! After clearing customs, you'll hop on a charter plane for a scenic 40-minute flight to your first destination - Desroches Island. This remote coralline island is the perfect place to unwind after the wedding and a lengthy overseas journey.
Step off the plane and...
you'll be warmly greeted by your hosts at Desroches Island Resort and escorted to your suite on this fantastic private island. The spacious, well appointed suites situated just a few paces from the beach are quite comfortable. They feature warm woods, a stunning bathroom with and outdoor covered shower and bath and elegant furnishings throughout.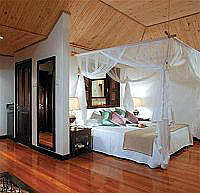 You've come to Desroches to unwind in seclusion and the environment is quite conducive to this with lovely white sand beaches and a quiet but inviting pool area. If you crave a little adventure, head out to the reef to experience some of the world's best scuba diving, snorkeling and deep sea fishing. Or, take a bike ride around the island and find a secluded beach to call your own for a picnic and sunset swim. As honeymooners at Desroches Island Resort, you will get the royal treatment which includes a welcome massage to work out any residual wedding stress and a romantic private candlelit dinner at the location of your choosing.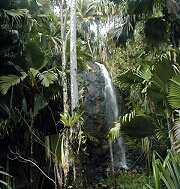 After chilling out on...
Desroches, you'll head back to Mahé and then continue on a short 15-minute flight to beautiful Praslin Island, once thought to be the original Garden of Eden. While it boasts spectacular beaches and waters suitable for any type of water activity, what really makes Praslin special is its interior forest, home to an amazing array of plant and animal life. The Vallee de Mai Nature Reserve, an UNESCO World Heritage Site, is where you'll find the awesome Coco-de-Mer palm tree, Bronze Eyed Geckos, and a wide variety of rare birds including the Bulbul and Black Parrot.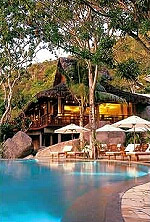 When not bonding with the local...
flora and fauna, you will have plenty of time to enjoy the luxurious Lemuria Resort. Located on a private peninsula on the northwest tip of the island, this boutique resort features fine dining, the L'Institute de Guerlain Spa, and the island chain's only championship golf course. The property's traditional design utilizes local materials such as wood, stone, pink granite and thatch. Even the exterior lighting system was specially created so that sea turtles could come ashore at night to lay their eggs without being disturbed. All accommodations are beautifully decorated with an emphasis on privacy and harmony with the natural surroundings. Your plush thatched-roof junior suite looks out on the Indian Ocean; enjoy the sunset with a glass of wine from your private terrace.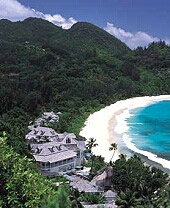 Your island adventure isn't over just yet - there's one stop remaining and it's back where you started on the island of Mahé, a perfect place to ease into civilization before heading home. You should be well rested by now and ready to partake in the island's broad range of diversions. Enjoy the silky beaches and colorful coral reefs of Beau Vallon Bay. Explore numerous parks, gardens, and local markets. Hike to the peak of Morne Seychellois for awe-inspiring views of the island and sea. Unlike its neighbors, Mahé even offers a bit of nightlife!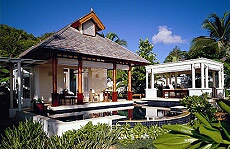 Even with so much to see and do...
it's imperative that you set aside some time to enjoy the wonderful Banyan Tree Resort, your home while on the island. On site you will have access to delicious dining, a spectacular infinity-edged pool, and a pampering spa, offering special treatments like the Thai Ginger Healer. While all your accommodations have been memorable so far, the Beachfront Spa Pool Villa will likely set a new benchmark. This stunning one-bedroom villa features a private swimming pool, massage pavilion, sprawling verandah, outdoor jacuzzi and steam room. It's true - you may never want to leave!
After a final few days of ultimate pampering and luxury, it's time to say goodbye to paradise. If you are not quite ready for this trip of a lifetime to end, consider combining a Seychelles island experience with an African safari or a visit to Paris, London, or Rome. No matter which options you choose we promise that your stay here will be unforgettable!
Who will enjoy this trip:
Couples who appreciate nature and eco tourism. Couples who enjoy island hopping. Those who desire top-notch accommodations.
Who should avoid this trip:
Couples who prefer to remain in a single location. Couples desiring active nightlife, restaurant and shopping options throughout the trip.
Details
Length:
13 Days / 12 Nights
Locations:
Desroches Island
Praslin Island
Mahé Island
Hotels:
Desroches Island Resort, Suite
Lemuria, Junior Suite
Banyan Tree, Beachfront Spa Pool Villa
Transportation:
Round trip charter flights from Mahé to Desroches
Round trip flights between Mahé and Praslin
Private round trip car transfers on Mahé and Praslin
Special features, activities and inclusions:
Breakfast, lunch, dinner and local beverages Desroches Island Resort
Breakfast daily at Lemuria and Banyan Tree
Round of golf at Lemuria
Romantic moonlit dinner at Banyan Tree
Two-hour "Rejuvenation" or "Renewal" spa treatment at Banyan Tree Spa
Price range:
$7500 - $9150 per person (includes tax & service, but not air from your home city)
Exact price will depend on time of year and personal travel preferences. The above range extends from low to high season.
Full customization:
All location, hotel and activity choices will be modified according to your interests and budget.
How to purchase:
Review our Terms of Service
Call us at 800.205.3314 to start planning your trip!