Ultimate Exclusivity in the Maldives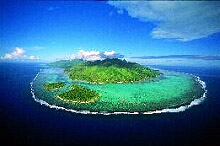 Does relaxing and playing on a remote private island while staying at the world's most luxurious resorts sound like your ideal honeymoon? If yes, then this trip will take you to new levels of pampering, relaxation, luxury and serenity.
As your flight approaches the Maldives...
you will see below tiny, freckle-like islands scattered across the ocean. This remarkable slice of heaven will be your home for the next couple of week. Step off the plane and feel the sun kiss your cheeks; slowly breathe in the magnificent sea air. You have arrived at your secret honeymoon spot, well, not just yet - a luxury speedboat is waiting to whisk you away to your first stop on the paradise trail - the breathtaking Huvafen Fushi Resort, a unique property that truly redefines tropical chic.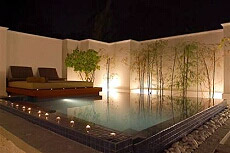 After a brief sail...
you are greeted dockside by your personal host who will escort you to your lavish beach bungalow. Among the room's opulent amenities are a private courtyard with an open air bathroom and rainfall shower, a large private pool with daybed, and a plasma screen TV if you feel compelled to check in with the outside world (doubtful). Lazy days here consist of strolling the white sand beach, sunbathing by your pool, and cooling off with dips in the translucent lagoon. With no set schedule, you will have lots of time to connect with your surroundings and each other.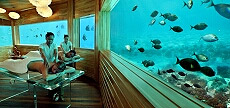 For a truly unique pampering experience...
you and your spouse will indulge in a romantic couples massage in the world's first underwater spa treatment room. As you discover bliss, you will catch glimpses of technicolor sea life as it glides by. After the massage comes to an end, you may be tempted to dive in and bond with your new marine friends, but wait a day or so because the next part of your trip will allow plenty of opportunities to mingle with the sea.
Upon parting ways with Huvafen Fushi, it's all aboard the Four Seasons Explorer, a private 128-foot yacht equipped with 11 luxurious cabins and a full range of amenities, including an exceptional restaurant, spacious sun decks, a Jacuzzi, a library, and a PADI dive center.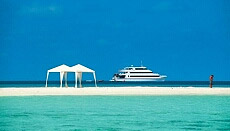 Over the next three days...
you will island hop between a number of the Maldives' more exotic atolls, seeing places that few visitors get to experience. For dive enthusiasts, you will have an opportunity to explore some of the most pristine and undisturbed reefs in the world. Dives, which can be done during the day or night, are led by an experienced marine biologist.
Not a diver? No worries, there are plenty of other ways to pass the time, including snorkeling, island sightseeing, deep sea fishing, kayaking, windsurfing and sunset barbecues on completely secluded and uninhabited islands (think Robinson Crusoe).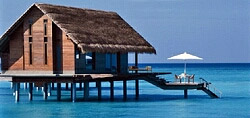 After a few days at sea...
it is time to return to shore for some final indulgence at the new One & Only Reethi Rah. Opened in May of 2005, this exclusive resort has quickly become one of the gems of the Maldives. Its location is unique in that it sits on a relatively large, octopus-shaped island, which translates into a wider array of land-based attractions, including 12 different beaches!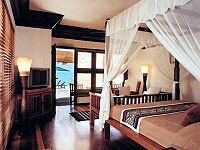 Upon checking in, you will be guided to your private overwater bungalow, fully equipped with a large deck, a "basking net" (similar to a hammock) perched just above the lagoon (perfect for sunning), and incredibly spacious living quarters featuring contemporary Asian décor. All needs will be taken care of instantly by your personal 24-hour butler. Relax, sip champagne on your private deck and gaze into the mystical turquoise water while watching the sun rise or set. In the evening visit one of three chic restaurants or enjoy live music at the Rah Bar.
If you feel like being more active...
you can try your hand at tennis, sailing, snorkeling, and sunset dhoni fishing. Or, simply meander around the island in search of your own private cove beach or one of the many hidden hammocks placed for optimum relaxation.
After being immersed in total luxury,...
you may find it challenging to return to the real world, but alas, all good things must come to an end. As you depart for home, you should feel completely rejuvenated, recharged and ready to start your journey through married life.
Who will enjoy this trip:
Couples who desire the ultimate in luxury and pampering, but also have a taste for the exotic. Those wanting to unplug from reality. Those who enjoy relaxation and water activities. This trip can also be combined with a stay in Dubai, Southeast Asia or a number of European capitals.
Who should avoid this trip:
Couples who want a wide range of activity, nightlife and dining options. Couples who get antsy after a few days on the beach.
Details
Length:
14 Days / 13 Nights
Locations:
North Male Atoll
Lhaviyani Atoll
Various other islands
Hotels:
Huvafen Fushi, Deluxe Beach Bungalow
Four Seasons Explorer Yacht, State Room
One & Only Reethi Rah, Water Villa
Transportation:
Transfers via seaplane or speedboat to and from Hotels/Yachts
Special features, activities and inclusions:
Full breakfast for two daily
All meals on Four Seasons Explorer
One spa treatment each in underwater treatment room at Huvafen Fushi
Price range:
$12,000 - $15,000 per person (includes tax & service, but not air from your home city)
Exact price will depend on time of year and personal travel preferences. The above range extends from low to high season.
Full customization:
All location, hotel and activity choices will be modified according to your interests and budget.
How to purchase:
Review our Terms of Service
Call us at 800.205.3314 to start planning your trip!