North America
American Diversity — A Unique Experience for Everyone
What type of honeymoon do you desire? Relaxing on the beach, taking in the sights and sounds of a world class city, hiking through mountains and glaciers, enjoying a glass of wine right on the grounds of a vineyard, or maybe window shopping along quaint cobblestone streets? The good news - virtually any experience you want can be found somewhere in North America! An efficient transportation system even makes it possible to enjoy a few different experiences as part of the same trip.
Of course, we cannot possibly cover every conceivable itinerary here. Listed below are a few of our favorite honeymoons in the United Sates and Canada. If what you are looking for isn't here, just ask your MoonRings relationship manager.
Just the Facts
Best suited for:
US couples who do not want to travel too far from home and/or are more comfortable traveling in their own neighborhood. Non-US couples who want to explore the diversity of North America.
When to go:
North America has a wide range of climatic conditions. The "best" time of year to visit will depend on your travel interests. For skiers or winter sports enthusiasts, January through March is ideal. Florida's beaches are most comfortable from the end of November through the end of April, although temperatures can actually get cool in December and January. For non-skiers, the Rockies are most appealing between June and October. The California coast is lovely year round, but wine country is nicest in the spring and fall. French Canada and New England are best visited from May through October.
Accommodations:
There is a broad range of accommodations in North America, from full-service beach resorts, to quaint inns, to exclusive hideaways. If you have a particular preference or interest, the odds are you will be able to find it somewhere.
Dining:
Food choices will depend on your specific destination. In more cosmopolitan locations, expect to find whatever you are in the mood for, from barbeque chicken to Vietnamese Pho. Of course, certain regions specialize in certain cuisines. You will find fabulous French food in Quebec City, tasty Tex-Mex in Santa Fe, gourmet wild game in the Rockies, and wonderful wines in the Napa Valley.
Special Activities:
Dramatic coastlines, small towns, a diversity of cultures, plenty of pampering, spectacular outdoor scenery and activities, gourmet dining, incredible arts.
Regions - North America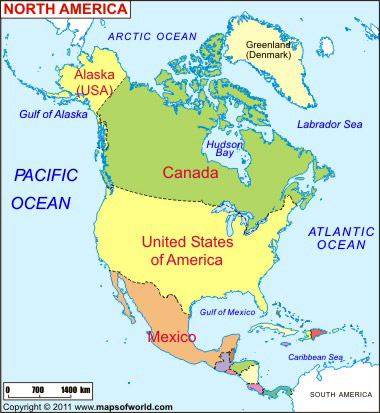 Click on each region in the left menu to learn more about that region.
Why North America
Reasons to choose North America:
Most locations are easy to reach. Minimal cultural and language barriers. Comfort and security.
Reasons to choose someplace else over North America:
Desire for an exotic honeymoon. Chance to create a once-in-a-lifetime experience. Interest in a foreign culture and/or older historical sights.
Signature Itineraries - North America
All of our signature itineraries are fully custom tailored according to your interests and budget. The following sample itineraries are intended to provide a feel for what's possible.