Thailand
A World of New Experiences
The journey to Thailand is long, but this exotic country is definitely worth the trek! With everything from dramatic coastline stretching 1700 miles to mountainous jungles, Thailand will not disappoint as a honeymoon destination. Where else can you swim in warm, turquoise water, take an elephant safari through lush rice paddies, or have a custom 3-piece suit made in 3 days?
Thai culture is rich and unique. From brightly-colored, beautiful Buddhist temples to abundant markets, teeming with vendors selling everything from local handicrafts to live sting rays, the sights and sounds will draw you in. Don't forget the country's delicious cuisine, with its hearty spices, complex rice dishes and fresh seafood!
Thailand offers more than enough to satisfy the inquisitive honeymooners' desires for thrilling new experiences in a tropical setting far, far away from the stresses back home.
Just the Facts
Best suited for:
Those who want a tropical destination far from home. Honeymoon couples who desire something more unique than the typical honeymoon resort experience but don't want to give up luxury and pampering. Investigative types who enjoy nature and exploring the great outdoors. Those who want to combine beach, culture and city all in one destination. Lovers of Thai food.
When to go:
Tropical year-round with distinct wet and dry seasons, daytime temps are usually in the upper 80s to lower 90s F (27-32C), except mid-March through April when the heat can be oppressive. It's typically hotter in Bangkok and south, and cooler in the north. The best time to visit is from December - February, when it is relatively cool and dry, but this also brings the greatest numbers of tourists (especially over the holidays). Avoid monsoon season from May through the end of October on the western side of the peninsula, and from around September through the end of November on the eastern side. Bangkok and north can also be rainy from July through November, but not quite as wet as the southern beaches.
Accommodations:
From 5-star luxury resorts to intimate boutique hotels. In the southern beach areas, the best properties for honeymooners tend to be in more remote areas. Bangkok has some of the most affordable luxury hotels in the world. Contemporary Thai décor is becoming popular and is minimalist with warm colors and clean, open spaces. Traditional Thai décor usually displays hand-painted silks, hand-carved teak beams, and floral accents. Public areas often include walking paths through lush gardens, ornate Buddhist architecture, and/or water features.
Dining:
Those accustomed to Thai dining in the West may be surprised by the foreign spices and ingredients used in authentic Thai restaurants, but all of it is delicious. Plenty of fish, hot spices, strong salty and sweet combinations and of course, rice, are staples of Thai cooking. Diners can find virtually any kind of international cuisine in all of the main tourist areas, giving Thailand its well-deserved reputation as a culinary destination on par with the best around the world.
Special Activities:
Elephant riding, indigenous hill tribes, white sand beaches with calm warm water, cooking classes, meditation, traditional Thai massage, ancient Buddhist temples, shopping for local handicrafts, long-tail boat excursion, colorful markets, monkey-spotting, and cultural performances.
Regions - Thailand
Thailand is arguably the most accessible and beautiful destination in the striking region of Southeast Asia. Thailand is developed enough to be comfortable and safe for tourists, with a wide array of hotel options and many reliable methods of transportation. Perhaps most importantly, however, is the diversity in scenery and experience that Thailand offers. Beach, relaxation, cultural sights, eco-activities, urban excitement, fine dining - you can easily pick and choose which ones are most interesting to you (or enjoy them all!)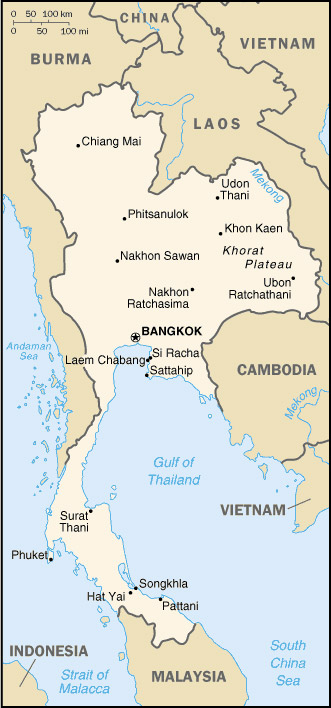 Click on each region in the left menu to learn more about that region.
Why Thailand
Reasons to choose Thailand:
A combination of beach, culture and urban experiences in one country. To go somewhere exotic without having to "rough it." Excellent standards for service and pampering. To encounter sights, smells, sounds and tastes entirely different from what can be found back home. To obtain good value for your dollar.
Reasons to choose someplace else over Thailand:
If you are uncomfortable with the thought of new, foreign sensations that could lead to culture shock. Domestic logistics are more challenging than in compact destinations, such as Bali. Travel time from North America can be long. As a developing country, you must be prepared to see local people with a different standard of living from your own.
Signature Itineraries - Thailand
All of our signature itineraries are fully custom tailored according to your interests and budget. The following sample itineraries are intended to provide a feel for what's possible.