Mauritius
A Jet Set Island Experience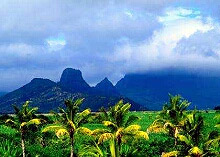 Mauritius, a supremely sublime and faraway honeymoon destination, will truly transport you to heaven on earth. This beautiful island embodies the glamour and opulence sought after by jet setters worldwide. After a 12-hour flight south from Paris, you will be met at the Mauritius airport by your private driver who will escort you to the first of two amazing, but wildly different resorts.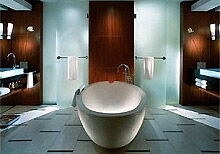 As you make your way through green fields...
of sugar cane, red earth thick with banyan trees, and air heavily scented with bougainvillea, your first stop will be the Fellini-esque, Mediterranean-inspired Le Touessrok Resort. After arrival, you will be shown to one of the resort's brand new, sea-facing junior suites, located on private Frangipani Island. At your fingertips are a wealth of resort activities, including two pools, every imaginable water sport, tennis, and championship golf on its own island. To set the proper mood for this special trip, you can indulge in pampering treatments like the four-hand Ylang Ylang couples massage at the Givenchy spa.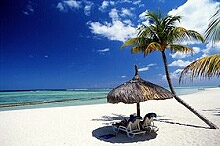 If Your're seeking more tranquility...
Take a boat over to Le Touessrok's private desert island, Îlot Mangénie. Here you can soak in the delight of being on your own island oasis - of course, personal service is never too far away with beach butlers spritzing Evian rose water and serving icy Mauritian Phoenix beer alongside a platter of grilled prawns. Does it get any better than this?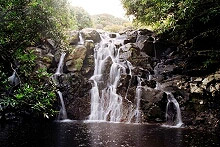 While it may be difficult to pull yourself away from the resort, Mauritius is an island worth exploring. How about an adventure safari aboard a Land Rover as you travel through the mountains of the Domaine Les Pailles? The excitement of off road trekking in this nature reserve will be heightened when you spot macaque monkeys and colorful tropical birds overhead.
Or perhaps you're in the mood for...
something a little mellower? Take advantage of the dozens of inexpensive luxury shops, selling everything from fine cashmere sweaters to sparkling gems and gold. Make sure to wander through the Le Bazar central de Port-Louis and bargain for everything from t-shirts to intricately crafted ships-in-a-bottle. If all this activity works up your appetite, you will find endless cuisine choices, from authentic Indian curries to delicious French pastries.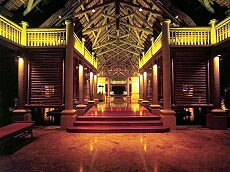 Now that you have had a chance to unwind...
enjoy resort life, and even do a little sightseeing, it's time to increase the luxury quotient. Pack your bags, meet your personal driver, and make your way to the world famous Le Prince Maurice hotel. Here you will be staying in a romantic Senior Suite, designed in the style of a traditional long house, complete with a thatched roof, teak floors, walls splashed with saffron, and plenty of beautiful colored textiles. Your luxurious 1400 sq. ft. abode comes complete with a private plunge pool overlooking the white sand beach and luminous blue lagoon.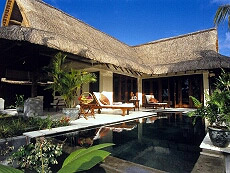 Wrapped in such serenity...
you may need to counter your instinct just to venture outside the room! Don't fight it. Take the time to soak in the warmth of your surroundings, and of each other. Lounge in your pool with a good book. Dig your toes into the soft white sand. Spoil yourselves with an opulent Ayurveda couples massage at the House of Guerlain Spa. As night falls, a private sailing excursion will provide a new perspective of the island as you dine under the stars.
Your final day or two can be spent meandering through lush and dewy forests, exploring local sugar plantations, doing some last minute shopping, or simply soaking up the sumptuousness of Le Prince Maurice. As you depart for the airport, ambling through sleepy seaside villages with long French names and passing by intricate Hindu Temples, you may find it next to impossible not to start plotting a quick return to this magical island. An anniversary getaway in the making.
Who will enjoy this trip:
Discriminating couples who appreciate exclusive resorts where they'll be spoiled and pampered like celebrities. Couples who enjoy luxury goods shopping, see-and-be seen nightlife, and a more social environment. Those who want more than just a secluded beach. This journey can also be combined with a stopover in Paris.
Who should avoid this trip:
Couples looking for something a little more laid back and understated. Those who prefer less developed destinations and more seclusion.
Details
Length:
12 Days / 11 Nights
Locations:
Trou d éau Douce
Belle Mare Peninsula
Hotels:
Le Touessrok, Sea facing Junior Suite
Le Prince Maurice, Senior Suite Villa
Transportation:
All transfers to and from hotels
Special features, activities and inclusions:
Full breakfast for two daily
Private sailboat dinner
Land Rover Expedition
Price range:
$8200 - $11,900 per person (includes tax & service, but not air from your home city)
Exact price will depend on time of year and personal travel preferences. The above range extends from low to high season.
Full customization:
All location, hotel and activity choices will be modified according to your interests and budget.
How to purchase:
Review our Terms of Service
Call us at 800.205.3314 to start planning your trip!